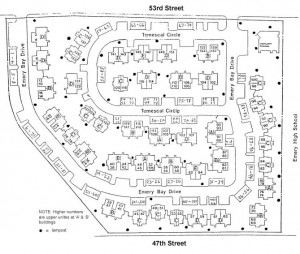 It's hard to imagine that you are at the heart of the Bay Area when you stroll through Emery Bay Village. This unique condominium complex was completed in 1981. There are 113 units on two streets, Emery Bay Drive, and Temescal Circle. The natural setting is green, quiet and peaceful, yet the major freeways and the Bay Bridge are only a short drive away making this an ideal location. Units range from 2 to 4 bedroom Townhomes.
Homes Currently for Rent
Walk Score
Nearby Businesses
[yelp lat="37.836016″ lng="-122.284364″ radius="3″ sortby="distance" term="grocery,restaurants,banks,gas_stations,education,hospitals" location="Emery Bay Drive, Emeryville, CA, 94608″]
Homes for sale at Emery Bay Village
Sorry we are experiencing system issues. Please try again.

We are an Equal Opportunity Housing Provider and follow all fair housing laws. For more information, contact California Department of Fair Employment and Housing (DFEH) at www.dfeh.ca.gov
Additional information about your rights can be found in the following brochures produced by DFEH Fair Housing - English and Igualdad en la Vivienda - Espanol